Favorite Canal Hotel Venice! I have visited Hotels in Venice
Fortunately, you don't spend much time in your room
A canal hotel Venice Italy. I thought there was no problem with booking a canal hotel. But I was wrong. 

My search for a nice canal hotel was more difficult than I thought. Which hotel do you choose from my list? 

There are plenty of hotels facing the Grand Canal. 

But what is my favorite...
...Top 3 Canal Hotel Venice next to the Grand Canal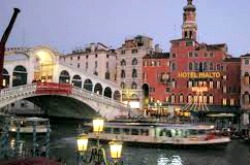 No. 1: 4-star Hotel Rialto is located next to Rialto Bridge. It has traditionally decorated Venetian rooms. The location is ideal; the water bus stops right in front of this canal hotel.
Piazza San Marco is 656 yards away. Great view, at least when you book a more expensive room overlooking the Grand Canal.
The multilingual staff at Hotel Rialto gave me a warm welcome. They helped me with the 2 suitcases I had to carry. The air conditioning works sufficiently, without noise. Windows close properly, so there is no external noise. Breakfast is more than adequate. And you can eat on the terrace along the water. The hotel is well worth your money. Check rates >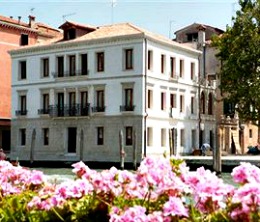 No. 2: Venice, its canals… and its Canal Grande Hotel What do you think about this 4-star Canal hotel? It has its name… 'Canal Grande Hotel'.
Just renovated in its 18th-century Venetian style. This Hotel faces the Grand Canal, located in a small aristocratic residence in a central location in Venice. 
Enjoy the spacious and luxurious rooms and suites. Relax with a drink on the small terrace of the Hotel and enjoy the view across the Grand Canal. This Hotel has its own dock, so you can quickly hump on a water taxi or gondola. Check rates >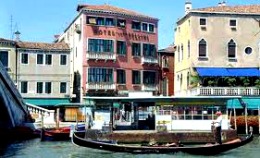 No. 3: Canal hotel Venice 'Boscolo Bellini' is a perfect hotel in an ideal location, accommodating reception! I had spacious, newly renovated rooms, brand new.
Boscolo Bellini is located in a historic building near Cannareggio in a former noble residential. My own interest was focused on antique furniture and marble bathrooms. Very nice! Some rooms overlook the Grand Canal.
It is not in the best reach of St. Mark's Square but in a pleasant and busy area. All are within walking distance of Piazza Roma, where you will find the buses and taxis. And it is a 2-minute walk from the Santa Lucia train station. Check rates >
Looking for another hotel? Please read more about...
Sep 16, 23 01:29 PM

Visit Harry-s Bar Venice: Bellinis, Hemingway, and Venetian Elegance: The Legend of Harry's Bar.



Didn't find the information? Search within Venice-Information.com:



Other places to stay in Venice Italy

Tip!: Do you want to know where to sleep cheap? Venice, Italy, is one of the most expensive cities in Europe. And yes, the city has a lot of hotels. There are plenty of other hotels on the canal. Often a small hotel or they only have two rooms on the side of the channel. The hotel rooms are usually 30% more expensive compared to a room without a window or a view of a wall. Read about the hotels in the 8 districts of Venice here.
Fortunately, I know you won't be spending much time in your room anyway. So what good is the view? However? Outside you have a much more beautiful look. And if you want to wake up in the morning with a picture of the canal in Venice, then you should walk outside. The streets are still quiet, the first cleaning sweepers are on the road, and the garbage has been collected. Wonderful to start the day like this. And if you're lucky, the coffee shop you saw yesterday is open for a delicious espresso or cappuccino.
Having a Canal Hotel Venice? The most famous canal meanders through the city, taking you to just about all of its world-famous attractions. Hop on a gondola or vaporetto and take it all in.
The Grand Canal is Venice's famous S-shaped artery. Every day you can hear the water splashing through the oars of the gondolas, which have crisscrossed the city for centuries. It's almost impossible to get around the city without taking a seat in a gondola, as the few sidewalks along the canal and the backs of the floating city buildings run straight into the water. A more modern and faster way to visit the Grand Canal and its attractions are by vaporetto (water bus). Do you just want to cross the canal? Then take a traghetto.
You can travel the entire four kilometers of the Grand Canal by boat and admire the many beautiful palaces and churches that line the waterfront. How cool is it if you can book a hotel in Venice on the waterfront?
Start looking for a cheap place to sleep in Venice

You've read about my favorite canal hotels in Venice. There is plenty to explore as you see. Discover Venice on my site and get more information about this beautiful Italian city.
Return from 'Canal hotel Venice' to page 'Venice Italy hotels'
Continue Reading: