Sustainable Tourism in Venice, 14 tips
Does the tourism in Venice make it to an amusement park? Local residents are annoyed and leave. Land prices continue to rise and are bought by foreign investors who are starting a hotel. 
Do you think that something can be done about it? Venice has been the European tourism place for decades. And it makes no sense to use entrance gates. Tourism continues to come. 
My advice is: Be aware during your trip to Venice and make a sustainable and responsible visit. I have 14 simple tips for a better tourism in Venice.
A better Tourism in Venice

1:   Plan & book your trip to Venice in advance. Choose whether to visit at a time when there are fewer tourists in the city. Buy your tickets in advance.
2:   Choose less polluting means of transport - such as train or bus - to reach Venice. 
3:   Look for accommodations that are committed to reducing their environmental impact. Example: Hotel Villa Serena (7km from Venice). They have a Green Star certificate. This is an organization that is committed to sustainability and will give a label when hotels follow their regulations.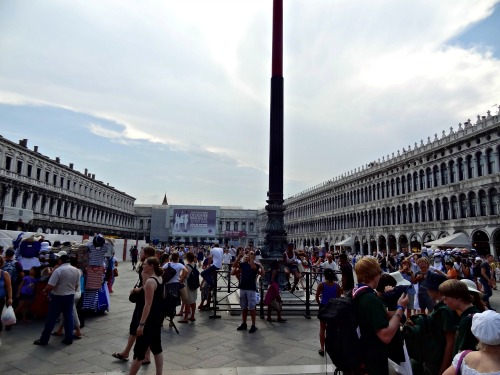 4:   Use a map and a guide of the city. Venice sightseeing is not only the Piazza San Marco or Rialto.
Discover the town and take the routes that no one else does. This is the way to see the very best of Venice.
5:   Use public transport in and around Venice. In the city, public transport is easy and efficient. Or else go on foot through the city. 
6:   If you want a taxi, use only certified taxis. Ask always first the rate of your trip. 
7:   Eat local specialties and enjoy the seasonal dishes with products from the Veneto region. 
8:   Do not buy counterfeit products from unauthorized dealers. These practices are illegal! You run the risk of a fine up to 7,000 euros + the confiscation of the goods. 
Sep 16, 23 01:29 PM

Visit Harry-s Bar Venice: Bellinis, Hemingway, and Venetian Elegance: The Legend of Harry's Bar.



Didn't find the information? Search within Venice-Information.com:



9:   Respect the environment and keep the city clean: do not throw trash on the ground or in the water. 
10:   Respect the people of Venice: wear decent clothes, do not stop on crowded bridges and put your backpack down when you're on the water bus (vaparetto). 
11:   Drink tap water instead of bottled water. This is safe; it's cheaper, more environmentally friendly and it produces no waste.
12:   Water is precious! Do not waste it. 
13:   If flooding occurs, the exceptionally high tides are announced by a siren. 
14:   Your own experience is fundamental: Share your suggestion to improve the environment in Venice. 
With your stay you are supporting Venice through the tourist tax. A unique city, but also extremely vulnerable. The tax will preserve the cultural and natural heritage of the Venetian territory. Read my article about the city tax in Venice >
Start looking for a cheap place to sleep in Venice

---
You have read about the 14 tips for a better tourism in Venice. There is enough to explore, as you can see. Please explore my site more...
Home >  Venice Tips >  Tourism in Venice >
Continue reading: