Venetian glass on the island of Murano. Magic Moments.

The skillful craftsmen blowing glass!
Glass museums and a great tour on the island
I will tell you all insides about this island near Venice. They were blowing blobs of molten glass into beautiful vases, molding colored rods into myriad animal shapes. Prepare right for your holiday, and you save time and money, I say. So, let me show you the...
The glassblowers of Murano are world-famous. The art of glass is everywhere on the island. Along the quay and on the central square are glass sculptures. 
If you want to see glassblowers at work, booking a Museum Glass tour in advance is better.
Especially when cruise ships make their visit to Venice, it can be jam-packed. For example, choose an excursion to Murano and Burano, including a glassblowing demonstration.
Some glass factories give a free demonstration but expect you to buy something in their store. And most factories have a shop where the most beautiful glass objects are. But unfortunately, most glass factories are not open during the summer because the temperature is too hot to work.
While wandering in Murano, you have to visit the glass museum 'Museo del Vetro.' The building is a beautiful 17th-century Palazzo' Giustinian.' On the first floor, you will find the famous Murano glass collections and masterpieces of Venetian glass art. The museum's location is around the corner from the 'Museo Murano' water bus stop. Line 4.1 or Line 4.2 from Venice' Fondamenta Nuove'. The whole year, it is open from 10 am, except the public holidays of January 1st, May 1st, and December 25th. 
Entrance tickets cost €13,50 (reductions for pensioners and students). 
Address: Fondamenta Giustinian 8, 30121 Murano
Web: www.visitmuve.it
Murano glass is highly regarded for its beauty, craftsmanship, and vibrant colors. Murano glass is created using a special technique called "lampworking" or "glassblowing." Skilled artisans, known as "maestros," use a combination of heat, tools, and their expertise to shape molten glass into various forms. They work with a variety of colors and patterns to create intricate designs, ranging from delicate figurines and vases to chandeliers and jewelry.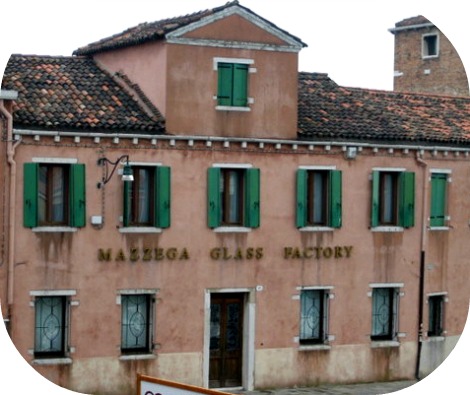 Visiting a Murano glass factory is a popular attraction for tourists. It provides an opportunity to witness the artistry and skill involved in the glassmaking process. Visitors can observe the maestros in action as they transform raw materials into exquisite glass pieces.
In addition to observing the glassmaking process, visitors can also explore the factory's showroom, which typically showcases a wide array of finished Murano glass products. These products can include sculptures, vases, bowls, jewelry, and decorative items. Each piece is a unique work of art, often reflecting the mastery and creativity of the maestros.
Many Murano glass factories offer guided tours where visitors can learn about the history of Murano glass, the techniques employed, and the significance of various glassmaking styles. Some factories even provide hands-on workshops, allowing visitors to try their hand at creating their own glass pieces under the guidance of skilled artisans.
When visiting a Murano glass factory, it's important to ensure that you're visiting an authentic and reputable establishment. The island of Murano has a designated Vetro Artistico® Murano trademark, which guarantees the authenticity and quality of the glass products. Look for this trademark when choosing a factory or a store to purchase Murano glass items.
Overall, a visit to a Murano glass factory offers a unique and fascinating experience, providing insight into the centuries-old craft of glassmaking and allowing you to appreciate the beauty and artistry of Murano glass.
You have to choose for yourself, but there are truly unique and well-organized trips to the islands. And as I wrote before, it's an excellent alternative to escape the city and find the peace you seek. You can book these trips here:
Torcello is one of the top Things to do in Venice. It has the best way of doing "different" activities. Therefore I advise you to take a trip to this island. Are you wondering which other top-rated activities are there to go to Murano, Burano, and Torcello islands? Check these top activities in the Venetian Lagoon to hop on an island like Torcello. 
And how about taking a seat on a ship and cruising the lagoon? Venetian Lagoon Tour and Galleon Dinner. On the boat, a dinner with candlelight in the evening? A unique night out on the ship. €110 per person.
Are you staying at a campsite on the Lido di Jesolo peninsula? There are many boat tours from this point where you can hop on. Check out the boat tour possibilities for a half-day of fun and experience the city of water from another view. Reserve a unique boat tour >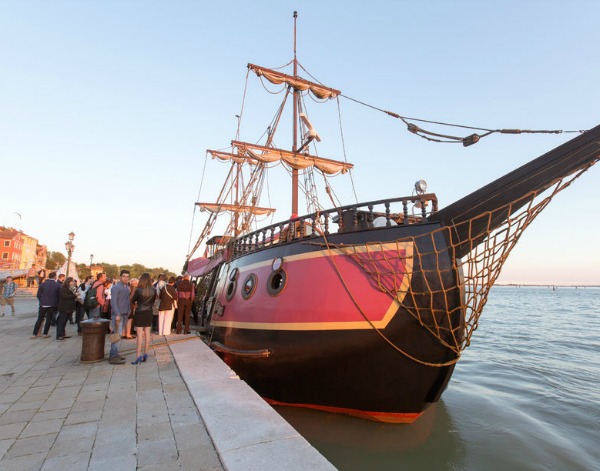 Dinner on a ship - Evening out - Venice
But, what is the...

Murano's History of the Venetian glass?
Sep 16, 23 01:29 PM

Visit Harry-s Bar Venice: Bellinis, Hemingway, and Venetian Elegance: The Legend of Harry's Bar.



Didn't find the information? Search within Venice-Information.com:



Venetian glass has its first history from the year 982 AD. But, it is unknown when the glass industry started on the island of Murano.
The glass chandeliers and the glass mirrors are world-famous. But, notably, during the golden age of The 16th century, it was demanding Europe and Asia.
The historical story goes as follows: A glass workman named Angelo succeeded in making a clear and transparent glass bulb. Colors and a lot of new techniques were applied to this new kind of glass. As a result, Murano Glass became to be well-known all over the world.
After its success, the glass Industry in Murano kept declining. In another century, the Baroque style and the Compatitevers worldwide made it challenging to keep up with these changes. And nowadays, the glass industry is ruled elsewhere (read; China). But Murano kept their unique culture. So the beautiful glass that uses the peculiar technique is alive and well. It is famous all over the world!
Lovers of glass beads, such as the famous Pandora or the hearts of Murano, are all over the place. I'm sure you will find exceptional glass beads…
You have read about how I experienced the Murano Glass! Please click on the links to explore my site more. 
Return from 'Venetian Glass' on the island of Murano to my page 'Top 15 Venice Italy Attractions' to learn about the most important attractions on Venice.
Continue to read:
Start looking for a cheap place to sleep in Venice