Information about the Venetian Gondola.

Get the best Gondola ride when you prepare and save money.
But is this true? For many, a romantic Venetian gondola tour is the highlight of a visit to Venice. A 50-minute trip (maximum six people) during the day will cost €80 - €90.
Quite expensive, and the route will depend on where you start. Ask this the Gondolier. But I have a better way.
Therefore, Already want to reserve a Gondola ride? You can book this at Tiqets; a ticket is around EUR 32. A gondola trip on the canals of Venice, Italy, will last at least 30 minutes. Book your tickets >
Where to find the Gondolas in Venice?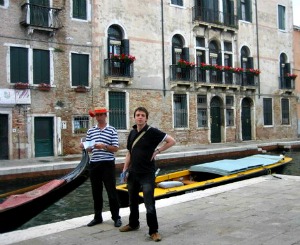 Get the best price for a gondola
Are you looking for locations where to hop on a Venetian gondola? Please check in front of San Marco Square, in front of Hotel Danieli, across HardRock cafe in the water Bacino Orseolo, at Campo Santa Sofia, near the Rialto Bridge, the vaporetto Station San Toma and Giglio and Vallaresso.
Do you love romance? Dreaming of a gondola gliding through the narrow streets of Venice, Italy, is what many people want to do! 
My first gondola ride was romantic and peaceful. I crossed the Venice area, 'Santa Croce.' But, another busy time, I started from the San Marco, gliding through the busy canals in the San Marco area. I enjoyed it less this time because of the crowded waters and the paves with tourism.
A unique tip is to combine a gondola ride. You will receive 4 'skip the line' tickets and access to four museums in Venice, such as the Doge's Palace. Therefore combine the Doge's Palace & Gondola ride and take advantage!
I also enjoyed it because I prepared my gondola ride sufficiently to know that...
Where is the Venetian Gondola made of?
The gondola is a precious wooden vessel. The Venetian Gondola is just over 10 meters long, barely 1.5 meters wide, and almost weigh about 350 kilograms. It is in total consisting of 280 units.
The different parts of the gondola are a thole (forcola) from walnut wood and the seven-pointed 20-pound iron bow (ferrous).
In the 16th century, there were about 10.300 gondolas in Venice. Today there are still 400 active. Notably, the gondola yards are fully booked for maintenance in the winter. A New traditional black gondola will cost approximately €15.000.
Venice fears a "plasticized amusement park parody" of their gondola. Unfortunately, some investors see Venice, Italy, as an amusement park.
Sometimes, plans come in the news of letting cheaper plastic versions in the same style as a wooden gondola enjoy the Venice canals. For the same reason, the city council decided not to replace the wooden poles with synthetic versions.
I certainly don't hope so... Do you want to do something unique when you stay in Venice? How?
Learn to handle a Venetian Gondola.
Why not learn to handle a gondola and master the traditional Venetian way?
There are two companies where you can learn how to ride a gondola. They teach you how to move a gondola elegantly and through the canals. The courses are taking place between March and October.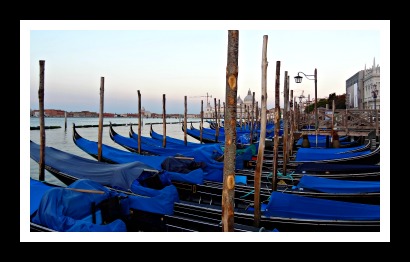 Start looking for a cheap place to sleep in Venice

You have read about the Gondola. There is enough to explore about this traditional vessel, as you can see. Please click on the links to explore my site more.
Return from 'Venetian Gondola' to my page about 'Top 15 Venice Italy Attractions' where you can read more about the top 15 sights in Venice. Because it is not only the gondola to make a trip on the water. There is so much to discover! 
Continue reading: