Home >   Venice Holidays >   Coach Holidays >
Here you can find coach holidays to Venice in combination with other Italian cities. An escorted bus with the best guides available. Above all, on the tours, you have a lot of free time to discover the city of Venice!
Coach Holidays in Italy with the Highlights in Venice!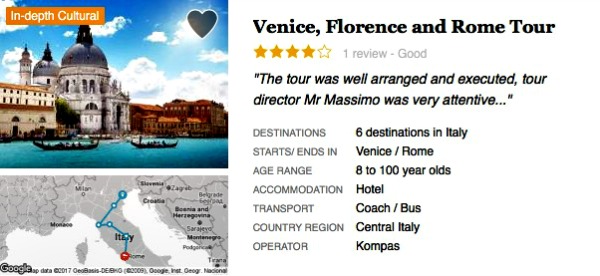 Venice, Florence and Rome Tour: This is an 8-day tour with cultural specialties and knowledge of the English speaking guide. It's a great package deal with visiting four other destinations in Italy and includes accommodations, meals, transport and more…
You will cover a total distance of approx 578 km. So, if you want to know the details about these cities? Book this holiday tour from EUR 1.498,= (£ 1.338,= or $ 1.765,=). Make a reservation >
---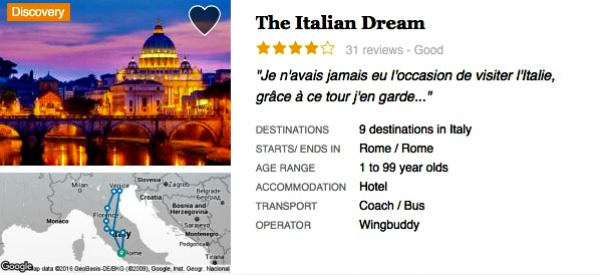 The Italian Dream: One of the cheapest coach tours on my list. You can book it from out the US and also directly from the UK. Your coach holiday tour is starting in Rome. The journey will even end in Rome.
The itinerary will guide you through 7 Italian destinations in this 8-day tour.  This Italian coach holiday includes accommodation, an expert guide, meals transport and much more… From EUR 882,= (£ 793,= or $ 1.035,=). English speaking guides during the tours and much more! Make a reservation > 
---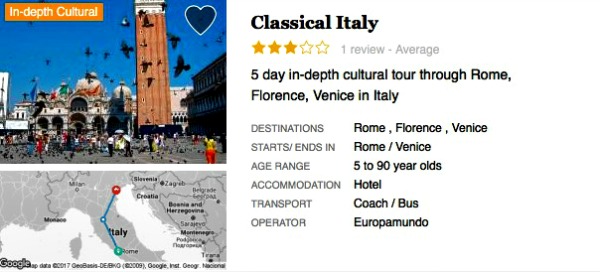 Classical Italy: Traveling with a coach to Venice has one unique thing! The well-informed guide during your tour makes the difference. When you take this cultural coach tour, you can enjoy all the knowledge of this personal guide. A 5-day holiday tour from Rome to Venice and two other locations.
This package also includes accommodations, an expert guide, and transport. From EUR 434,= (£ 388,= or $ 512,=). English speaking guides during the tours and much more! Make a reservation >
Ok, thanks for the well-organized coach tours but I'm not yet convinced. Please tell me...

...Why Travel by Coach + Guide to Venice Italy
Didn't find the information? Search within Venice-Information.com
Jul 03, 22 09:57 AM

How to get from Airport to Venice? Cheapest way? Best Transfers Options & Quickest Water, Bus, Taxi Service.
Top 3 Populair Activity to do in Venice

When I think back to my first coach holiday in Italy, I had some doubts. I want to go my own way and discover beautiful sites in Italy and Venice. But, most coach tours you have more free time than you think.
And the most important reason which I learned afterward is the educational and efficient way of traveling. In such a short period, you will learn a lot about culture, history and you will get a chance to see beautiful scenery which you were not planning to do when traveling on your own.
So, please show me your...
...Advantages when traveling with a coach to Venice: 
A coach holiday is an easy and fantastic way to visit Venice, while you sit back, relax and take in your surroundings with everything is taken care of for you.
Your holiday is with experienced drivers/crews and expert guides.
A great selection of excursions to choose from, inclusive visits to Venice and exciting and varied tour itineraries
Everything was taken care of so you don't have to think about a thing
Luxury coach travel with quality hotel accommodations
Local guides to provide knowledge and expertise
The beauty of joining a fully escorted coach tour is that without having to plan, research, organize or navigate, you will be taken to all the right places in an incredibly relaxing environment, on board your luxury coach. 
All of the accommodation is within your holiday price. 
For my bookings, I'm using TourRadar. They have some fabulous tours in the whole of Europe and they are well qualified to arrange the best visit to my beloved city 'Venice'. Why book with TourRadar: 
Best Price Guarantee
If you book with TourRadar and within 24 hours you find a better price, TourRadar will pay you the difference
Safely book online
A secure connection securely protects all your details
6,237 tours in Europe
covered by 165 different operators in Europe
No Cancellation Fee
TourRadar does not charge any additional cancellation fees. 
Travelers who went to Venice to verify all reviews.
I gave you some highlights about Coach tours to Venice. I have some suggestions, as you will read. Please click on the links to explore my site more and get more information about the different topics. 
Go from 'Coach Holiday Tours' to`Venice Holidays`
Continue to read: