Holidays in Venice Italy: Visit this City for a Weekend. A weekend full of romance and love...
Spend your Weekend holidays in Venice Italy... Venice is an attractive destination for city holidays. That's for sure! Wake up in you hotel perfectly located for your needs. A short 5-minute walk from the airport's first water taxi stop into historic Venice and a 5-minute walk to the Jewish Ghetto with easy walking to the rest of Venice...
Prizes of a 3-star hotel, including breakfast, will cost you around 90 Euros per person. Venice is accessible to people with all kinds of incomes. I'm sure even you can afford to spend a romantic weekend in Venice style...
Weekend trip to Venice? Hotel Ai Mori D'Oriente is currently on sale for deals&discounts. You will arrive at Marco Polo Airport.
2 nights with breakfast. A weekend in a perfect location in Venice. Now temporarily EUR 115, - per night. Book this offer now >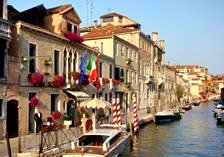 Nowadays, Venice has visitors of all ages. Rich, poor, student, elderly, and movie stars. And not to forget the many art lovers who come to this city. There is enough excitement to make an entire holiday or a merely relaxing weekend break. So, don't wait and...
...Book your own Weekend holidays in Venice Italy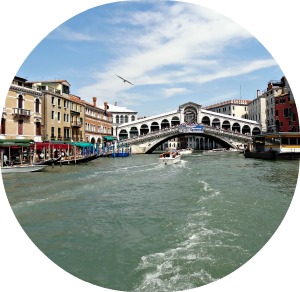 You do not have to wait for an offer. I prefer to fly and buy tickets with the Airline KLM. This Dutch-trusted airline company is flying directly to Venice Marco Airport. 
Otherwise, you have to choose which airline you want to fly. And so on which airport you will arrive at. Know that RyanAir flies to Treviso Airport and that you have a connection to Venice for one hour with a shuttle bus.
And your accommodation? A cheap hotel or a B & B? All you can control yourself, so why not book your nights yourself? This way is how I do it.
I do this by using Booking.com/Venice. A wide range of hotels and apartments in Venice. And you can sort it by price and location. So, you can control your Weekend holiday in Venice Italy, by yourself...
Already in Italy? Get Information about Tours to Venice over here. It doesn't matter where you are in Europe or Italy. There are, in total, 23 tours that will go to Venice. 
Great, you have these tips; why do I have to spend my holidays in Venice Italy? Or even a weekend..?
...Just, check Piazza San Marco, the heart of Veneto
I got my best holiday feeling when I noticed there were no cars! No bikes are any vehicle. This experience has made my holiday in Venice Italy, very pleasant.
Explore the city on foot, take a gondola ride or take a seat on a square and hide behind the alleys. The highlights are impressive. For example, the Piazza San Marco is the heart of the city and the start of most holidays in Venice Italy. This square is imposing because of the imposing facade of the Basilica, a tourist attraction itself.
The Basilica of Venice has up to five impressive domes and is rich with arches, turrets, and other decorations. Be surprised by the treasury (tresoro) and the rich collection of the Basilica. I was impressed by all the silver, gold, gemstones, and elegant glassware. Even when there is a big row of many tourists, it's worth it.
Ok, what else does Venice has to offer...
Sep 16, 23 01:29 PM

Visit Harry-s Bar Venice: Bellinis, Hemingway, and Venetian Elegance: The Legend of Harry's Bar.



Didn't find the information? Search within Venice-Information.com:



...The Rialto Bridge offers a great view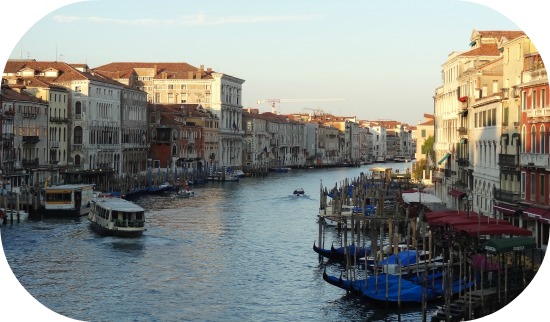 The Rialto Bridge and its own Rialto market are worth a visit. The Rialto bridge connects both banks along the Grand Canal and offers a great view.
From here, you can be impressed by all the gondolas, boats, and other traffic passing by in this beautiful scenery. In addition, you will find near the Rialto Bridge many shops and a fish market. 
Everything is within walking distance. This convenience area makes it the commercial heart of the city. It's easy to spend half a day here, exploring the market and more.
I want to do something exclusive:
Exclusive Activities in the city of water
Venice is a city with many canals and beautiful architecture. It has connected 117 islands, 400 bridges, and 160 channels. And yes, what's more romantic than a ride on the gondola under the bridge of sighs?
Holidays in Venice Italy are an ideal opportunity to discover hidden charms in this historic and unique city. Every street or canal has its character and personality.
Book Cheap weekends to Venice on the following pages:
Start looking for a cheap place to sleep in Venice

I gave you some highlights about holidays in Venice. I have some suggestions, as you will read. Please click on the links to explore my site more and get more information about the different topics.
Go from 'Weekend Holidays in Venice Italy' to `Venice Holidays`
Continue reading: