Why Budget Travel to Venice is quite a challenge?
On this page, you can read how you can budget travel to Venice. It is easy to spend money here. Not only this but also tips for cheap survival in the city.
We, therefore, start at the beginning. But, first, go flying cheaply to Venice. How do you do that?
When and how do you book a cheap flight ticket to Venice, Italy?

We all know those lucky travelers who manage to score too cheap fares every time they fly. It's the most critical element when focusing on budget travel to Venice. Here are the tips:
Don't wait until the very last moment to book the flight. Do some research and see if Venice has another airport. This is the case with Treviso Airport (25 miles from Venice). Prices per airport vary enormously.
And then the period when you fly the cheapest. Viewed over a whole year, these are the months of January and April.
How much does a flight to Venice cost?
As a frequent visitor to Venice, I have flown many airlines to Venice. Always from Amsterdam or Brussels. So with Transavia, KLM, Alitalia, Easyjet, and Ryan Air. These airlines use both Treviso Aiport and Marco Polo Airport. So pay attention when you book.
The average price for a return flight was € 118 per person. So you can expect this low Venice price. Flying from the USA or the UK? Check my page, "Cheap flight to Venice, Italy."
Going budget travel to Venice, it is best to go on Wednesday, Thursday, or Saturday. Thursday is the best day for that. Are you curious how far in advance you can best score a flight ticket? We have noticed that this is more than 90 days before departure or 30 to 60 days before departure.
But how do you survive in Venice without a lot of money? The city has...
...The peace, beauty, cheap food... And there is a lot of FREE!
Sep 16, 23 01:29 PM

Visit Harry-s Bar Venice: Bellinis, Hemingway, and Venetian Elegance: The Legend of Harry's Bar.



Didn't find the information? Search within Venice-Information.com:



No cars and no roads. But boats and canals. They add to the city's tranquility and beauty. Known for its romance and charm, it is full of charisma and style that has something for everyone.
If you have budget travel to Venice, it is best to arrive by train or bus. Or park your car in a free parking space. I have described those parking spaces on my "Parking in Venice" page.
It is better to choose accommodation in the suburbs of Mestre. Here you have cheaper hostels and hotels. In addition, you can budget travel to Venice by cheap tram or bus.
Once in Venice? Discover the city by walking and not taking the vaporetto boat. That will easily cost € 7.50 each time. By walking you save a lot on transport costs. You can buy your day card for public transport in Venice online. 
Do you want to eat cheaply? Then I recommend the Dorsoduro district. This is on the south side of Venice and literally means "hard ridge." Today Dorsoduro represents the best balance between touristic Venice and its authentic side. Enjoy significantly lower prices in this area's bars, cafes, and restaurants.
Sip the iconic "Spritz" drink with the locals in one of the many bars of Campo Santa Margherita, the heart of the Dorsoduro district. This area is arguably the best place to relax after a long walk around the city.
Eat tasty Cicchetti: small sandwiches which you can buy from the many Bacaro stores dotted around the neighborhood. Enjoy those treats for 2 euros and replenish your energy. You will also find plenty of museums in this neighborhood.
To enjoy a great budget travel to Venice, you can find...
Free museums and activities in Venice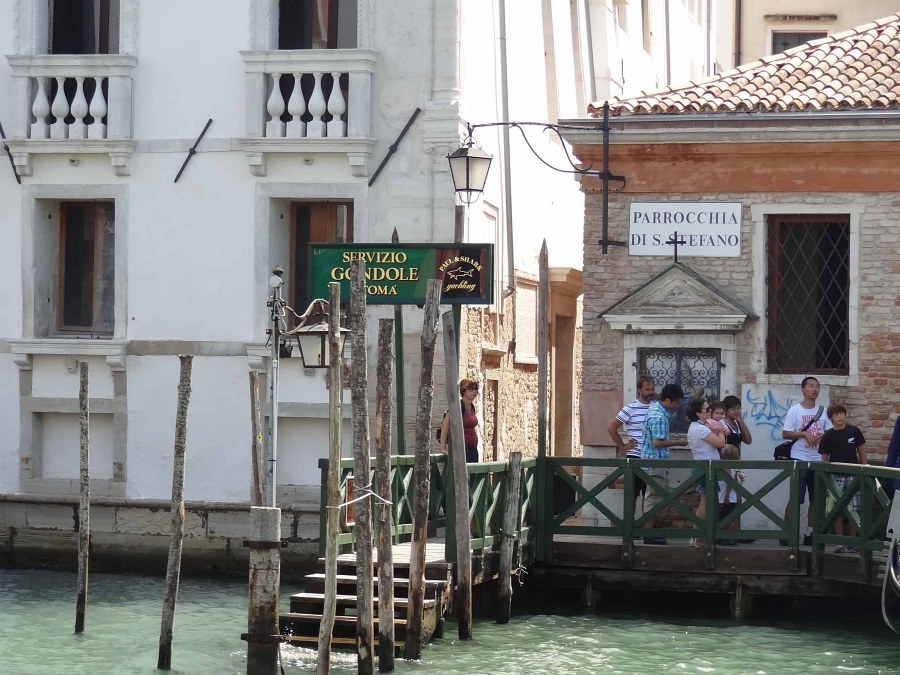 Visit the Basilica of San Marco, the Basilica di Santa Maria Della Salute, and many other beautiful churches for free. Many of these (free) art and photo galleries are spread around the city.
Another way to save money at the major museums is to buy a combined ticket, such as for Palazzo Rezzonico, Ca D'oro, and Ca' Pesaro Gallery.
You can also enjoy it for free by going on the roof terrace of Fondaco del Tedeschi, a department store close to the famous Rialto Bridge. Enjoy the beauty and the broad view of the Grand Canal. Often you don't even have to queue at this vantage point to go up.
Do you still want to know more about the city and spend a little money? Then, a cheap audio tour is a perfect option!
What to think about...
...Visit Venice in the excellent season and book your accommodation well in advance

It still happens that people go to Venice on spec and expect to get a cheap place to sleep somewhere. But, unfortunately, that usually does not work, or you pay the paramount price. Also, be careful not to visit the city in the summer, from late June to September. The town is then too busy. It makes a difference because you enjoy the city much less because of the crowds and the heat. Besides, prices are generally higher than in other seasons.
Budget Travel to Venice and other tips: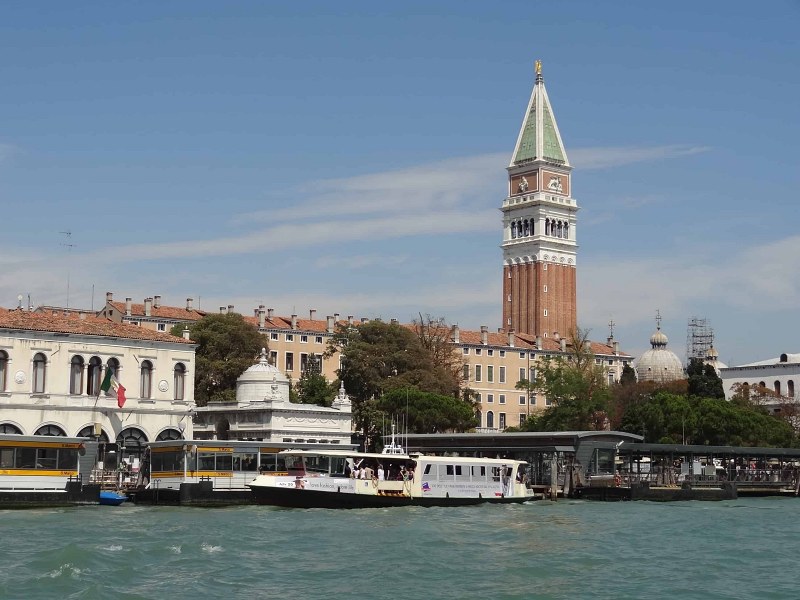 Only bring hand luggage if your trip is short.
Sleep on the mainland. The journey to Venice is quick and cheap by bus or tram.
Search for accommodation online: Booking.com is an excellent place to start.
Eat your main meal at lunchtime, away from the main tourist areas.
Walking will likely make you thirsty, especially when the weather is hot. Buy a bottle of water cheaply from a supermarket.
Venice has about 100 drinking fountains with good and free drinking water. Refill your bottle here
Spend time cheaply enjoying the beautiful shopping streets and arcades!
Take a cheaper guided tour of the Fenice Opera House if you don't have a ticket for a performance.
If listening to a Vivaldi concert is on your to-do list, there are several churches and small concert halls where performances are relatively cheap.
Spend an evening in a campo and enjoy a glass of wine as you watch the local families gather to socialize
Avoid the summer peak season and the carnival.
---
You have read about how I experience a Budget Travel to Venice! I have some suggestions, as you will read. Please click on the links to explore my site more.
Return from 'Budget Travel to Venice' to my page 'Venice Holidays'
Start looking for a cheap place to sleep in Venice

Continue to read these pages: