Find the 9 secret Venice Attractions
Because you want to do Unique things 
and have a better memorable Experience 
Home >  Top 15 Venice Attractions >  Secret Venice Attractions
The Venice attractions are all beautiful and full of cultural history. I think Venice is a total work of art. I'm sure you agree with me. I call them my secret attractions in Venice. 
The city is one big museum. There are beautiful churches, resemble museums, famous bridges, and charming squares. But where can you find these secret sights?

Let's move on, and I will tell the...

Visits in town which I call secret Venice Attractions
1. The Grand Canal: Probably its one of your first sightseeing tour. When you are starting the Lagoon on the Grand Canal (probably in a Vaporetto) you will pass several highlights.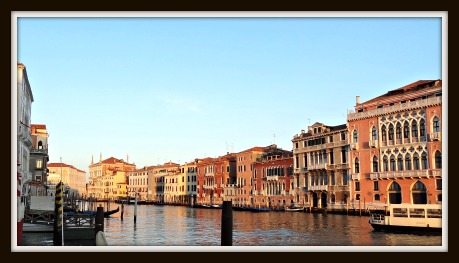 Get on a Vaporetto (line 1) at Piazzale Roma and enjoy the 3.5 km (2.1 miles) wall of Venetian houses, palaces, and churches. That's why the Grand Canal is one of my secret Venice Attractions.

The Grand Canal is the main route in Venice. You sure will meet a Venetian Gondola on this water. Remember: it's not cheap for a ride in a gondola, but its a must.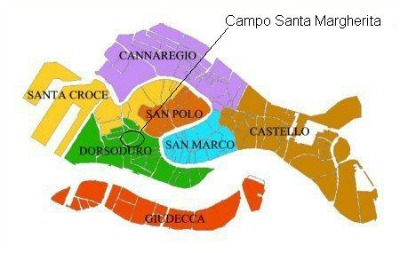 2. The Campo Santa Margherita: Daytime cozy cafes and a small market, evening and at night the square become a genuinely vibrant nightlife. Especially in summer, there is a lively atmosphere until after midnight with the mostly youthful audience and entertainment.
Even in the winter, there is action around this square. There are several excellent cafes, and on weekdays, you can find a fish market, a flea market. Read more on this Santa Margherita website >
3. Modern Art: The main attractions of ​​modern art in Venice are from American, French and Venetian artists. The Peggy Guggenheim has attracted visitors for several decades. The Punta Della Dogana is a permanent exhibition of the French Pinault. It opened their gates in 2009.
4. The Ghetto: Ancient synagogues and a small museum testify to the life of the Jewish community in Venice. From the 16th to 18th centuries many thousands of Jews lived in very cramped conditions in the ghetto of the city.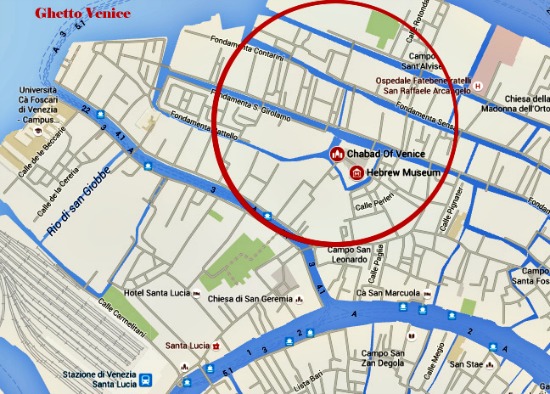 The neighborhood is surrounded by water and by only two bridges connected to the rest of the town. Previously, fences erected and allowed the Jews not to leave the neighborhood at night.

In 1943 most Jewish Venetians were deported to concentration camps. You can find a memorial in the Ghetto which explains to you that only 37 returned. 
How to get there? Get off from at the ' Guglie' Vaporetto stop and go the once city's best livelihood area. Visit the square ' Campo del Ghetto Nuovo' with the memorial. Take a Synagogue Tour and visit Museo Ebraico.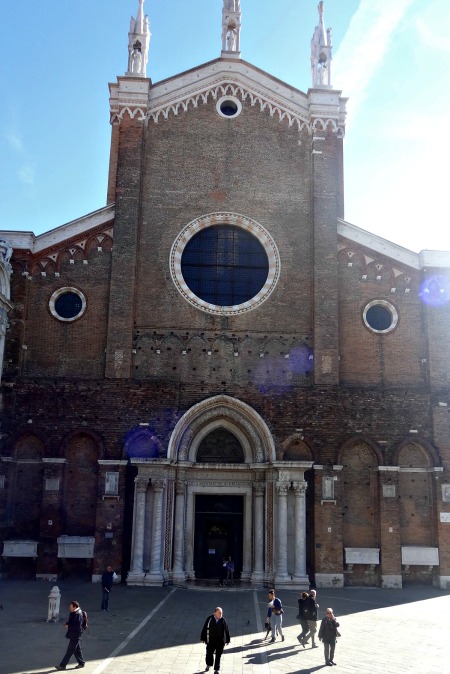 5. Santi Giovanni e Paolo: A church full of art with a beautiful facade and around quiet streets, shops and bars. Don't expect one of the most beautiful Venice Italy attractions, but this site shows the city in its peaceful way.
6. Santa Maria Gloriosa Dei Frari: The Franciscan Church is home to masterpieces by Titian, Bellini, and Donatello. But the Gothic Cathedral is itself an achievement. It is an imposing structure, and the paintings have their own stories. 
Curious? Get off at Vaporetto stop 'San Toma.' The address is ' Campo Dei Frari 3004, San Polo' entrance; EUR 4,-, open until 6 pm. Note that no phones, cameras or food are allowed in the church, and appropriate dress is required. After your visit, you can relax in the charming shops and restaurants.
Sep 16, 23 01:29 PM

Visit Harry-s Bar Venice: Bellinis, Hemingway, and Venetian Elegance: The Legend of Harry's Bar.



Didn't find the information? Search within Venice-Information.com:



7. Four Hundred Bridges in Venice: They built the city on 120 islands, and there are 150 canals. And they all have bridges.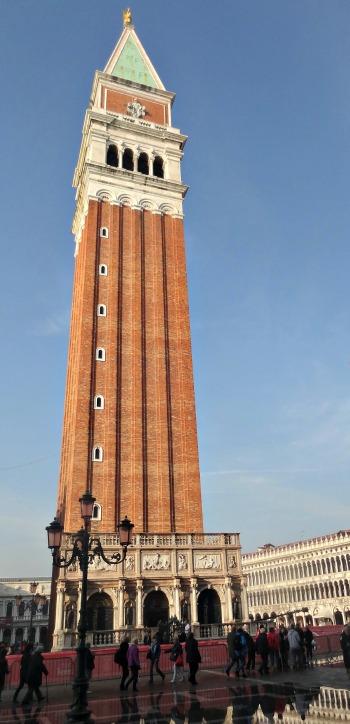 Many of them are very characteristic. Therefore, bridges are a must seen during your holiday... Most famous is the Rialto Bridge. It crosses the Grand Canal and has a rich history. 
The Accademia Bridge is the last of the three bridges connecting the two banks of the Grand Canal. Built as a single arch of wood. 
8. The Campanile Tower: Get off at Venice San Marco Square with its stylish piazza, the Basilica and the 100 meters (328 feet) high tower Campanile. From this tower, you have a great view.
Hopefully, there will not be a long waiting line to go up. I went in April. The Venetian weather was cloudy but luckily dry. And it was not so busy if I compare to other days.
9. San Marco Square (Piazza San Marco) is a unique 175-meter long plaza. It's showing each time of the day, all seasons long, a different view. All day long there is movement, and the sunlight is changing the color.
Other cheap tickets for Sights in Venice
Start looking for a cheap place to sleep in Venice

You have read about my favorite attractions. There is enough to explore, as you can see. Please click on the links to explore my site more about the different topics.
Return from 'Venice Attractions' to page 'Top 15 Venice Attractions' and learn more about the different attractions which you can visit in Venice. 
Continue Reading: