My favorable Venice attractions…
Home >  Top 15 Venice Attractions >  General Venice Attractions
The Venice attractions are all a beauty and full of cultural history. I think Venice Italy is a total work of art. I hope you agree with me, because I'm going to tell you about my favorite attractions in Venice.
The city is one big museum. You are in one big attraction. Don't worry you will get bored...   

There are beautiful churches, resemble museums, famous bridges and charming squares. But what's the story about this historic sights? And are they accessible for wheelchairs? 
Venice Attractions, which is the busiest?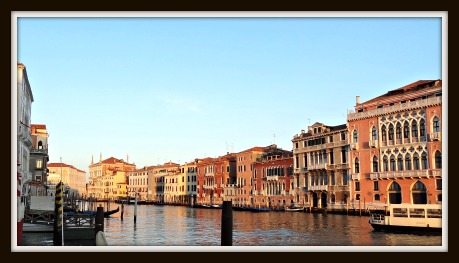 Probably its one of your first sightseeing tour. When you are starting the Lagoon on the Grand Canal (probably in a Vaporetto) you will pass several highlights.
Get on a Vaporetto (line 1) at Piazzale Roma and let the 2.5 km (1.5 mile) wall of Venetian houses, palaces and churches pass you by. That's why the Grand Canal is one of the most visited Venice Attractions.
The Grand Canal is the main route in Venice. You sure will meet a Venetian Gondola on this water. Remember: it's not cheap for a ride in a gondola, but actually its a must.
One palace along the Grand Canal is a modern art museum 'Palazzo Grassi'. The palazzo is from the 18th century designed by Giorgio Massari.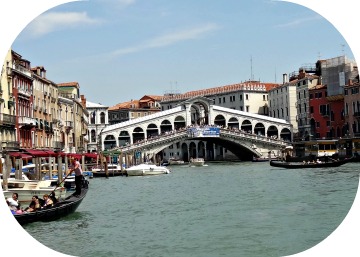 Venice is a very special city in Italy, which is built on 120 islands and there are 150 canals. And they all have bridges. Many of them are very characteristic. Therefore, bridges are a must seen during your Best Venice Italy Holiday...
Most famous is the Rialto Bridge. It crosses the Grand Canal and has a rich history. During your vaporetto ride on the Grand Canal you will pass the Accademia Bridge. This bridge is the last of the 3 bridges connecting the two banks of the Grand Canal. Built as a single arch of wood, the bridge is very important to reach the nearby Academy of Fine Arts.
This is the Accademia Gallery. The artistic patrimony of this gallery is of primary importance: Venetian paintings from the fourteenth to the eighteenth century is documented with numbers of outstanding works.

Highlights around the San Marco
Get off at Venice San Marco Square with its stylish piazza, the Basilica and the 100 meters (328 feet) high tower Campanile. From this tower you have a great view. Hopefully there will not be a long waiting line to go up. I went in April. The Venetian weather was cloudy, but luckily dry. And it was not so busy.
Venice San Marco Square (Piazza San Marco) is an unique 175 meter long plaza. Its showing each time of the day, all seasons long, a different view. All day long there is movement and the sunlight is changing the color.
Basilica Di San Marco is a church with a rich history. It's their proof of Venice's close associations with the East. Thereby it's their own characteristic sight as a city between the cultures of East and West.
The Doge's Palace is the place from which Venice was ruled for years. And the famous prison. So you should also read the history of the Bridge of Sighs because it has a secret tour why prisoners had to cross this bridge...
---

Cheap Parking in Venice Italy
Be smart and get a cheap parking place when you are visiting Venice Italy ! Here is an overview and mostly they have a shuttle services to Venice... Check it out! 
---
You have read about my favorite attractions. There is enough to explore, as you can see. Please click on the links to explore my site more about the different topics.
Return from 'Venice Attractions' to home page 'Venice Italy'
Continue Reading:
Piazza San Marco (Square)>